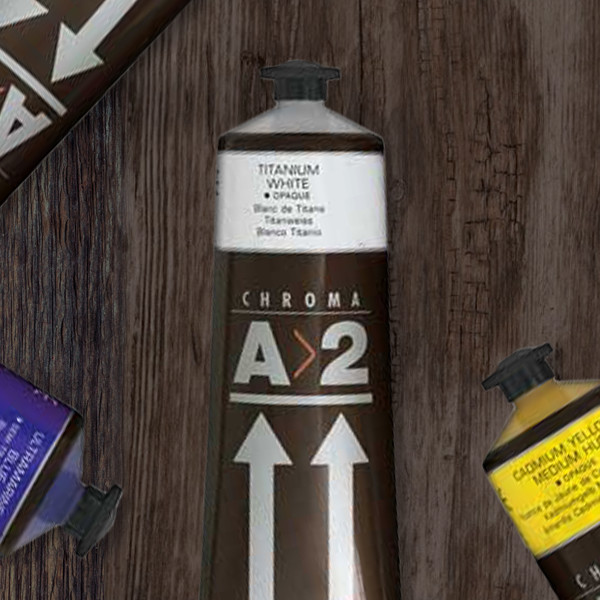 Atelier A>2 Acrylic:
Atelier A>2 Acrylic is specially designed for the needs of serious art students and hobby painters who wish to avoid the expense of buying top end professional colours while they are learning. It is available in bottles, jars and tubes.
Atelier A2 is used as a transition range which can be augmented by adding colours from the Atelier Interactive range, and A2 colours can be retained for 'bulk' if desired.
Student quality paints do not offer these transition options.
QUESTION: Can a one price artists' acrylic compare with a professional artists' quality colour?
ANSWER: YES! Our Atelier A>2 Acrylic most certainly can – and here's why.
All 20 colours can be intermixed with our professional quality colours. Everything is compatible and matched which means you have a real advantage when doing large paintings where lots of colour is needed. Using Atelier A>2 Acrylic for the large acreage saves you heaps.*
All 20 colours have been specially selected to properly teach you important colour mixing skills.*
Using cheap junk paint will severely limit your artistic potential. Because Atelier A>2 Acrylic is so heavily pigmented, heavy-bodied and expressive it will lift your work to a whole new level without breaking the bank. If you have an art teacher they will love you for using it.
Atelier A>2 Acrylic is compatible with our whole range of Atelier Painting Mediums, Grounds and Varnishes so you can explore and learn how to get the effects the professional artists use.
Everything you'll learn while using Atelier A>2 Acrylic will nor be lost as you gain more skill.
The same brilliance & clarity of colour as our professional Atelier Interactive Acrylic.
The same body and consistency as Atelier Interactive Acrylic, with excellent brush-mark retention for oil paint-like techniques.
Dries to an attractive low gloss surface emphasising colour saturation and luminosity.
*More colours available in USA.  Click here to view USA colour range.
Visit the product catalogue to see Chroma's entire educational paint range
Colour Range