Visit the product catalogue to see Chroma's entire educational paint range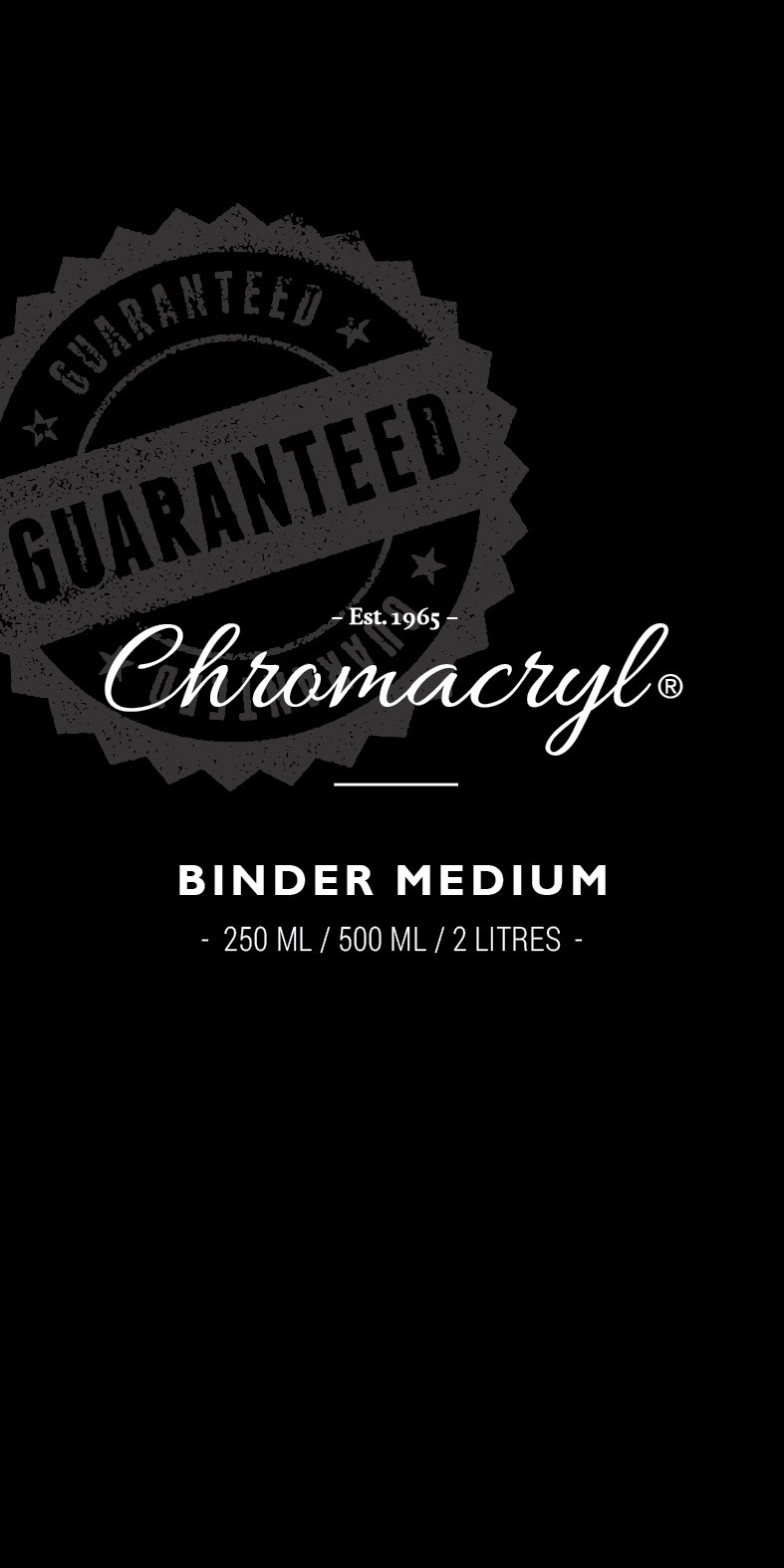 Chromacryl: Binder Medium
Chromacryl's Binder Medium can be mixed with Chromacryl or it can be used for a variety of other purposes;
it can be used to increase the paints gloss level, by simply mixing the Binder Medium into the paint wet in wet, to lift the gloss level to your preferred finish
as an excellent primer used to seal and prepare all painting surfaces for better adhesion, such as; paper, card, canvas or other modelling materials. Note: it can be painted into while it is still damp if necessary
it can also be used as a quick way of sealing 'porous' surfaces so that Chromacryl moves more freely
it is ideal for glazing techniques
it can be added to the paint and used for collage purposes
as an excellent adhesive for collage, paper pulp and papier-mâché applications
it dries to a clear finish, so you can mix it with a little water and Chromacryl for a bright, luminous glaze
and it can also be used by diluting it 50/50 with water as an excellent satin varnish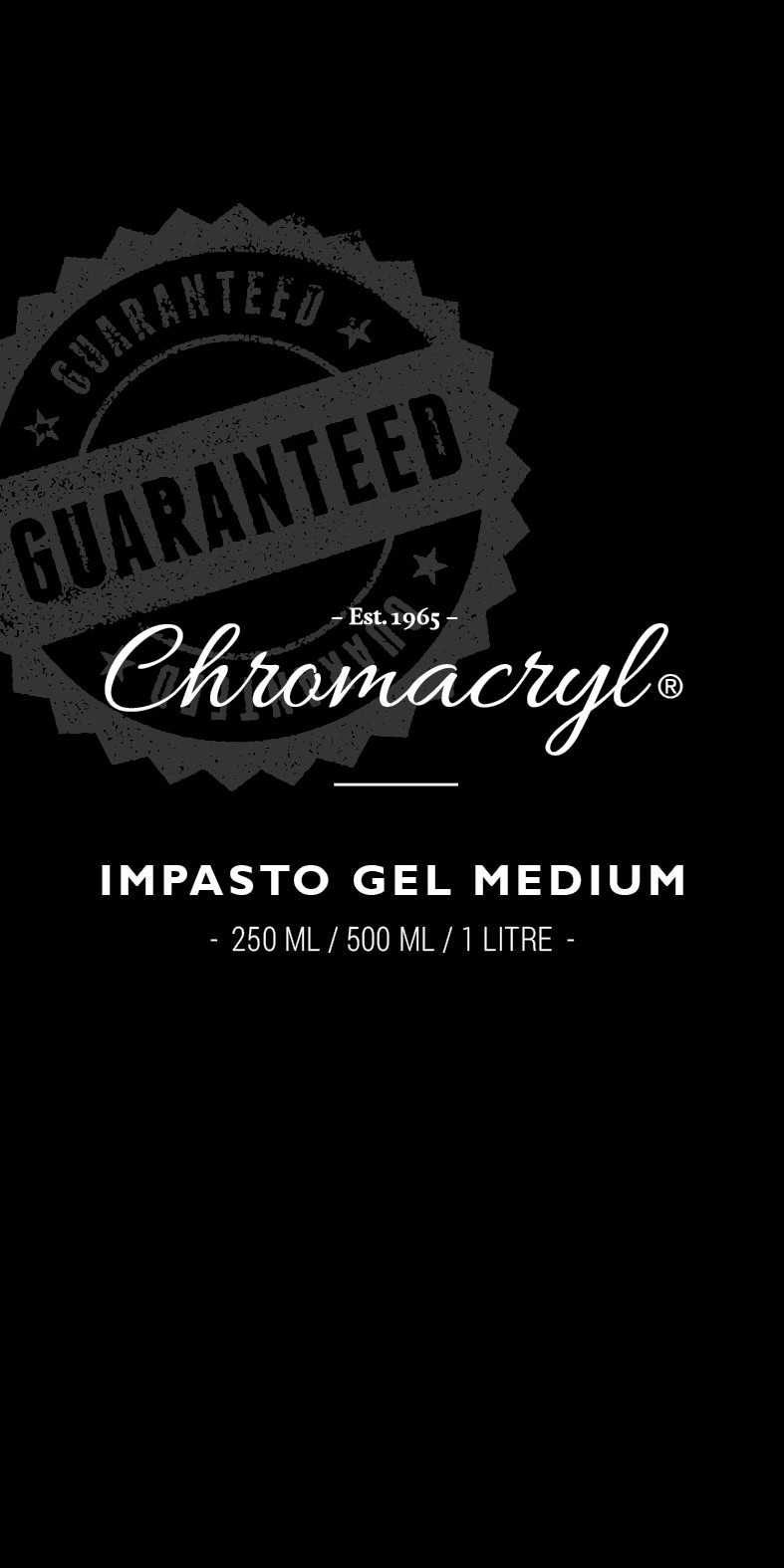 Chromacryl: Impasto Gel Medium
Impasto is a technique used in painting, where paint is laid on an area of the surface (or the entire canvas) very thickly, usually thickly enough that the brush or painting-knife strokes are visible. Chromacryl Impasto Gel Medium is a thick acrylic gel used to exaggerate the textural capabilities of the paint.
when dry, Impasto Gel provides texture, making the paint appear more dimensional
mix Impasto Gel with Chromacryl colours to add more body to your paint
it can be used for thick glazes
acts as an excellent adhesive for mixed media, especially heavy objects in collage work
Impasto Gel is milky when wet but dries clear and remains flexible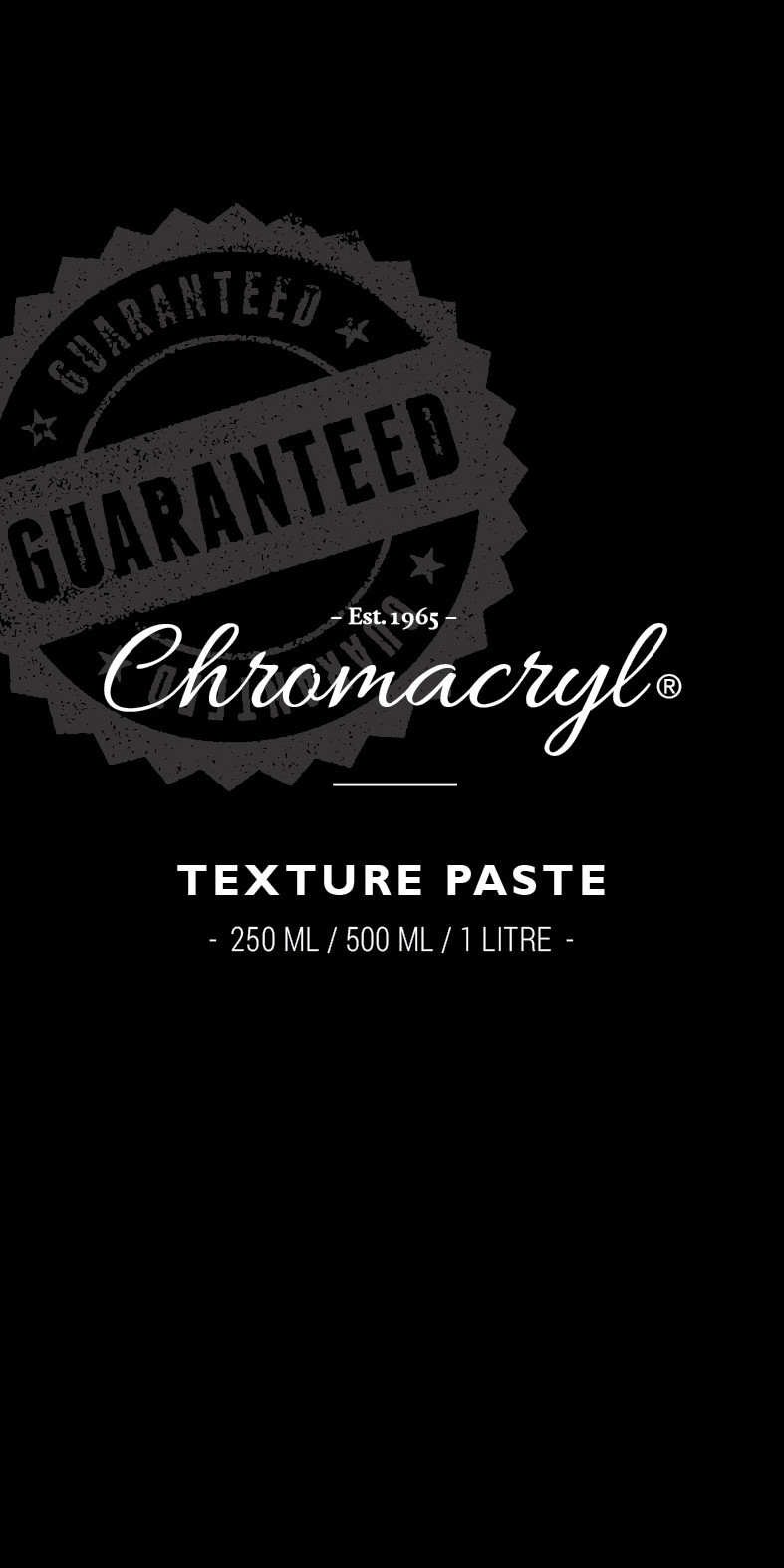 Chromacryl: Texture Paste
Texture Paste is a brushable, translucent modelling compound ideal for multiple texturing methods. It may be pigmented with Chromacryl Students' Acrylics to produce a coloured ground, or painted over to create texural effects when dry;
it dries to a whiteish finish
it will not become brittle or discolour with age
it is used to exaggerate textural effects, however it's important to note, that the Texture Paste must dry before being painted over
simply clean up with cold, soapy water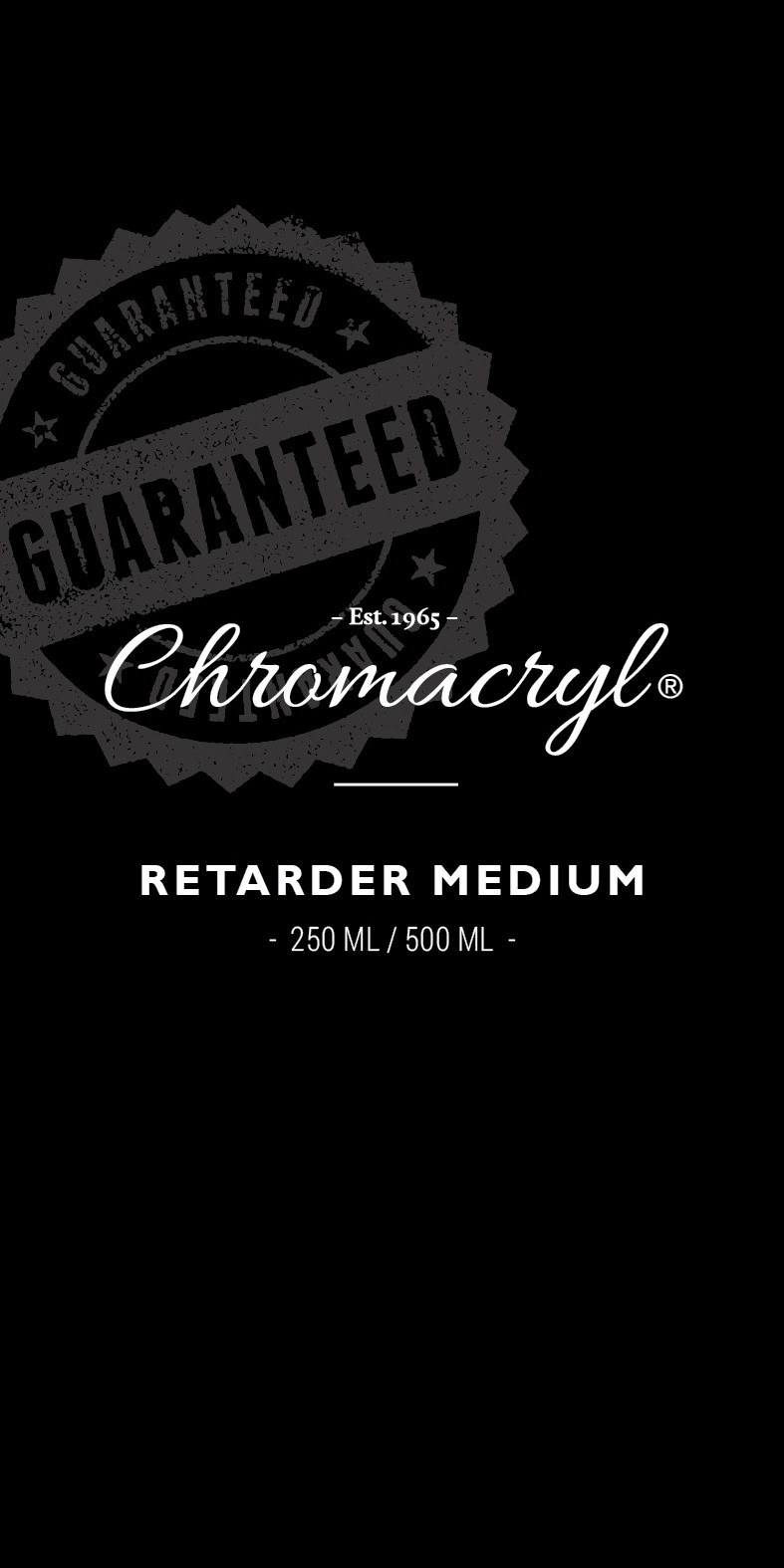 Chromacryl: Retarder Medium
Chromacryl Retarder Medium slows down the drying time of paint when added in small quantities to either Chromacryl. Can also be used in screen printing and for blending colours in fine detail work. It can be used for a variety of different purposes;
add 10% Retarder Medium to water solution then add to paint to slow drying time considerably
it can be used for blending colours for finer detailed work
it is useful for silkscreen printing particularly in hot dry conditions
use 10% of Retarder Medium when added to Chromacryl colours to stop the screens from clogging
wash the screen mesh thoroughly in warm soapy water. The Retarder Medium not only reduces screen blockage when printing but makes cleaning easier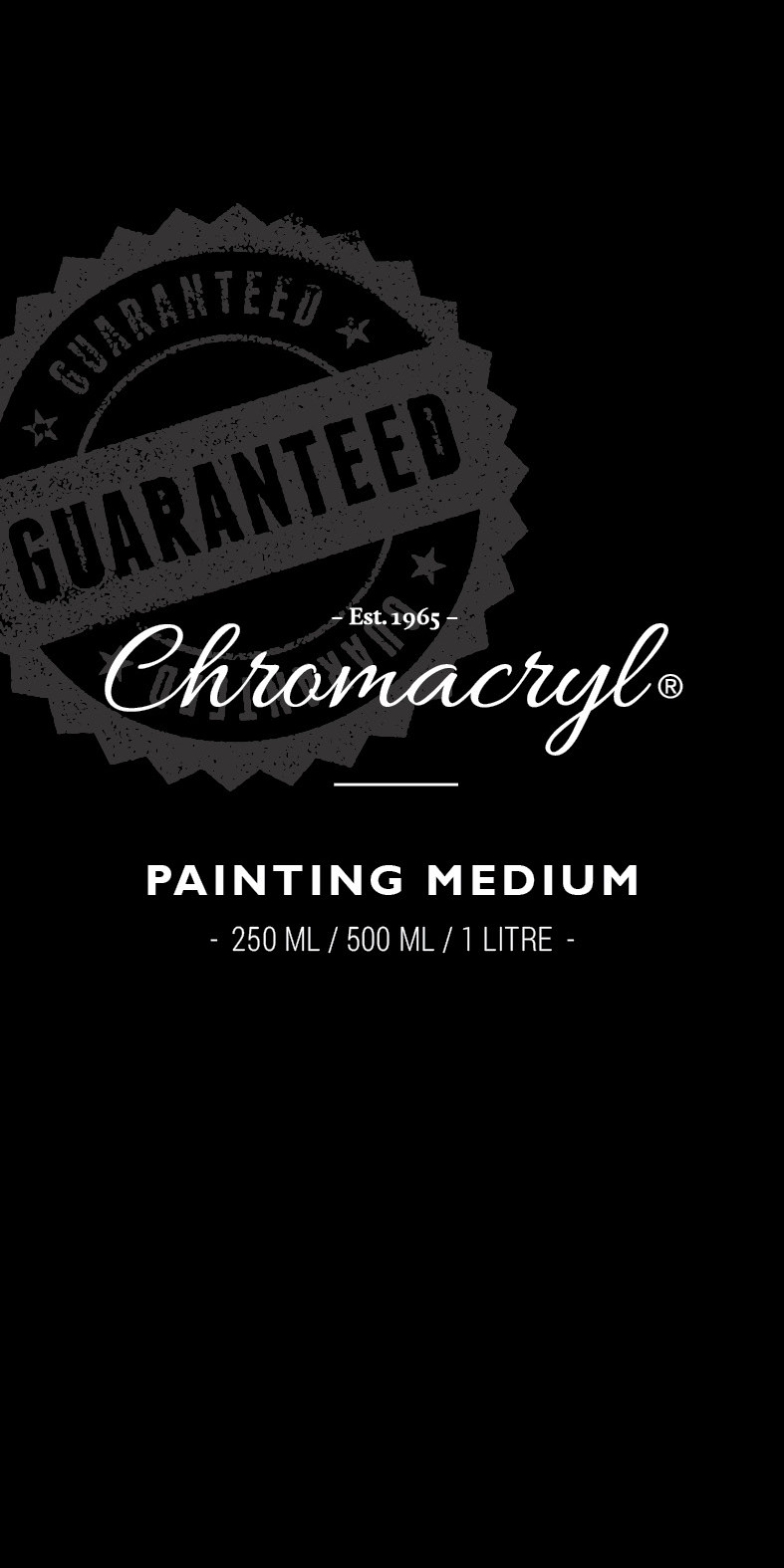 Chromacryl: Painting Medium
This new Chromacryl Painting Medium is the most important additive for students learning to paint.
When students reach a stage in their learning process whereby they need to be able to over paint to develop their paintings it is important to be able to control and gradate the edges of the wet paint being applied so that it merges with under painting rather than simply blotting it out. Sophisticated acrylic paintings with gradations are very difficult to do without the use of this Medium.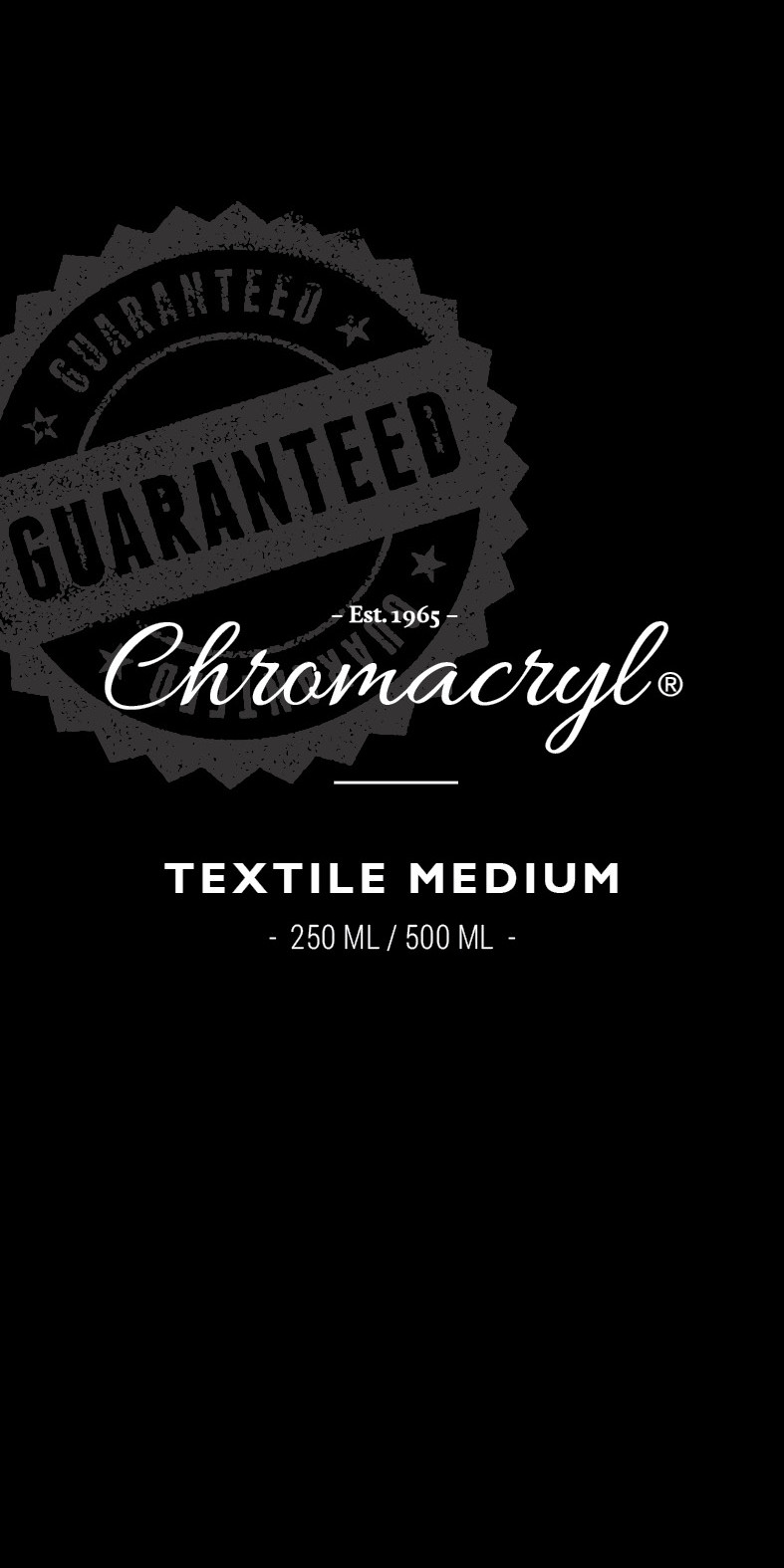 Chromacryl: Textile Medium
Add Textile Medium to Chromacryl Colours to make an immediate and effective textile paint with washfast durability. You can paint free-hand, block print or silk screen designs onto most natural fabrics. When dry, "fix" the colour into the fabric with heat. This can be done by ironing the fabric on a hot setting for at least 2 minutes. Place a sheet of aluminium foil over the fabric to be ironed to prevent the textile paint from sticking to the iron.
Note: when silkscreen printing with any acrylic based product including Chromacryl, it is advisable to add about 10% of retarder to the mixture on the screen, and the process must be carefully supervised to make sure that the paint does not dry on the screen. Consequently, silkscreen printing projects are usually simply one colour jobs for articles such as T-shirts.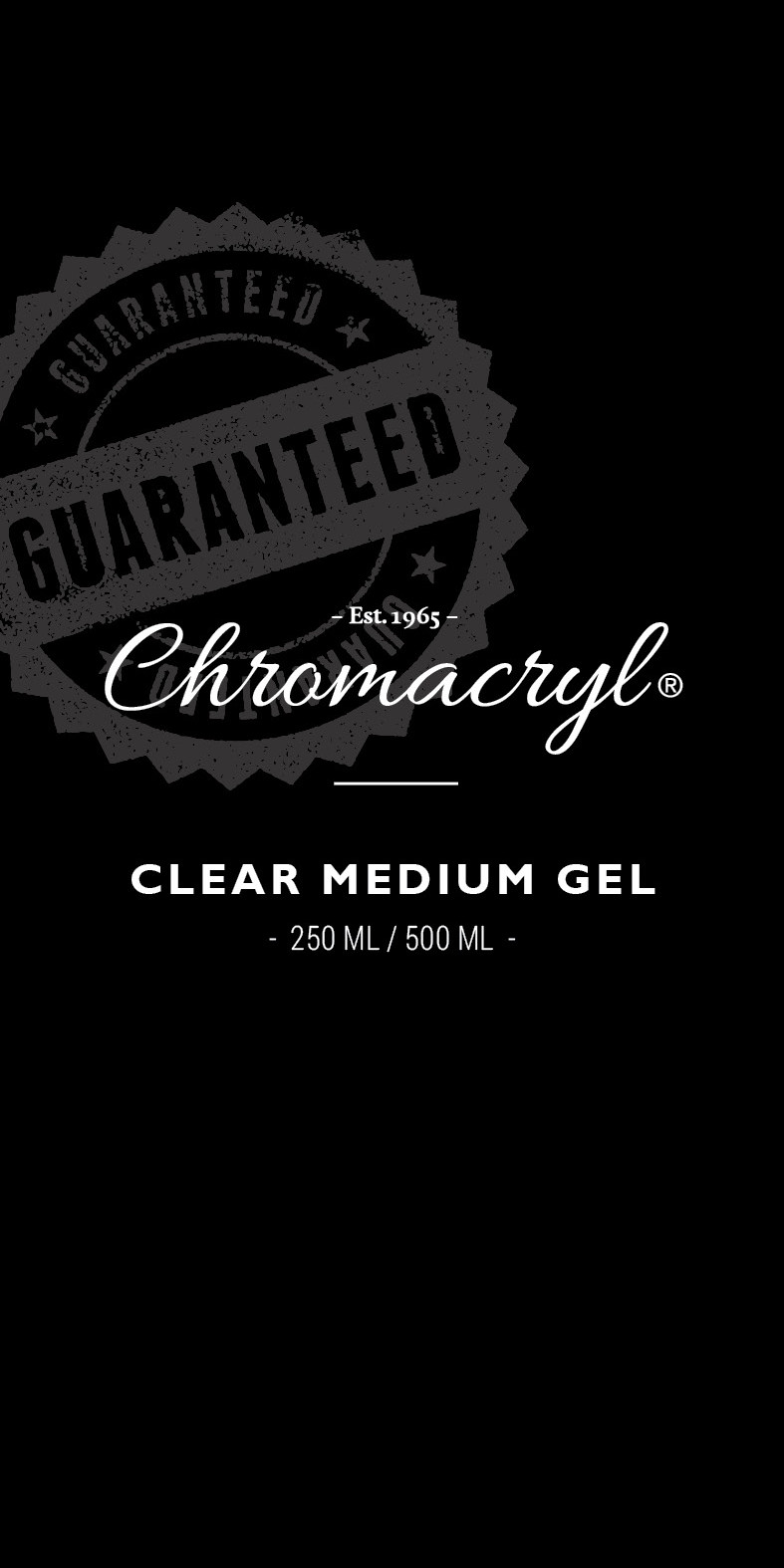 Chromacryl: Clear Medium Gel
Chromacryl Clear Gel Medium is a clear medium extender that changes the coverage quality of paint and ink to achieve colour glazes without affecting pigments. It's great as a paint extender and for transparent glazing techniques. To produce a monotype choose a non-absorbent surface such as glass or plastic, apply the gel generously and paint the image into the wet medium – you can also scratch back. To take a print place a preferably absorbent paper over the image and use hand pressure to generate the print. When completed lift the paper from the block and the medium acts as a release agent to transfer the image onto the paper.
What can it be used for;
as mentioned above it is perfect for transparent glazing techniques
is ideal for monotype printing applications where it works as a release agent when printing
can be used as a reduction paste in silkscreen printing
it washes off surfaces and utensils with cold, soapy water (Note: please wash off immediately after use)
and, is Non-Toxic
Note: Depending on the effect required, add Gel Medium to paint or ink and mix thoroughly. For monoprinting spread gel over printing surface. Create the image on top of the gel using Chromacryl acrylics. Transfer the image to paper with simple hand pressure.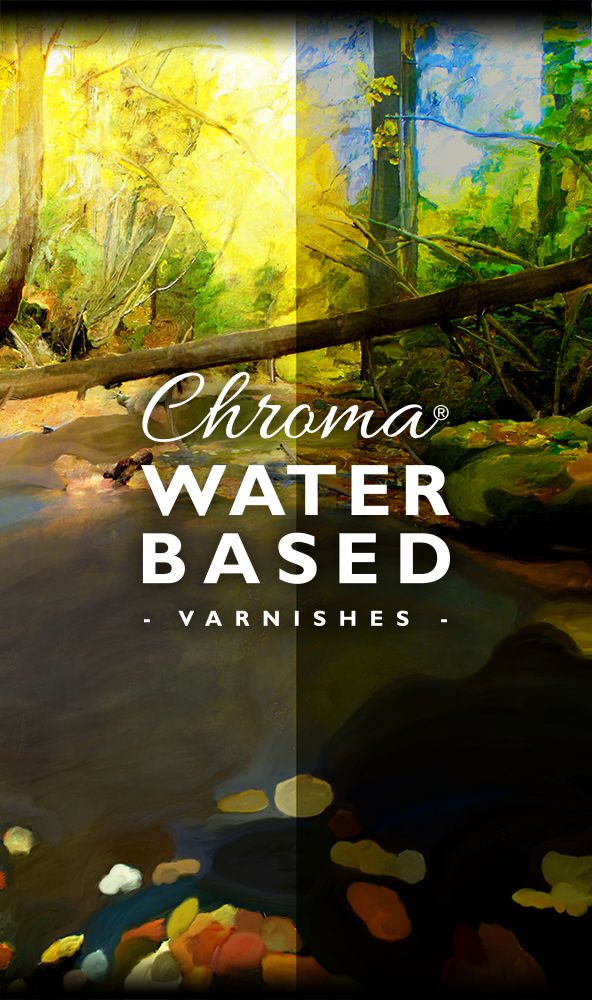 Chromacryl: Finishing Varnish (water-based)
Chromacryl Water-Based Finishing Varnish is a clear, durable, gloss varnish that forms a tough non-tacky surface to enhance and protect paintings.
can be used to varnish murals
ideal for all artworks and surfaces where a hard heat resistant varnish is required
apply to acrylic paintings after they have dried
it is a water-based varnish
it dries with a tack free gloss finish
low viscosity for easy application
Note: For a low sheen finish dilute the varnish one to one with water
Gessoes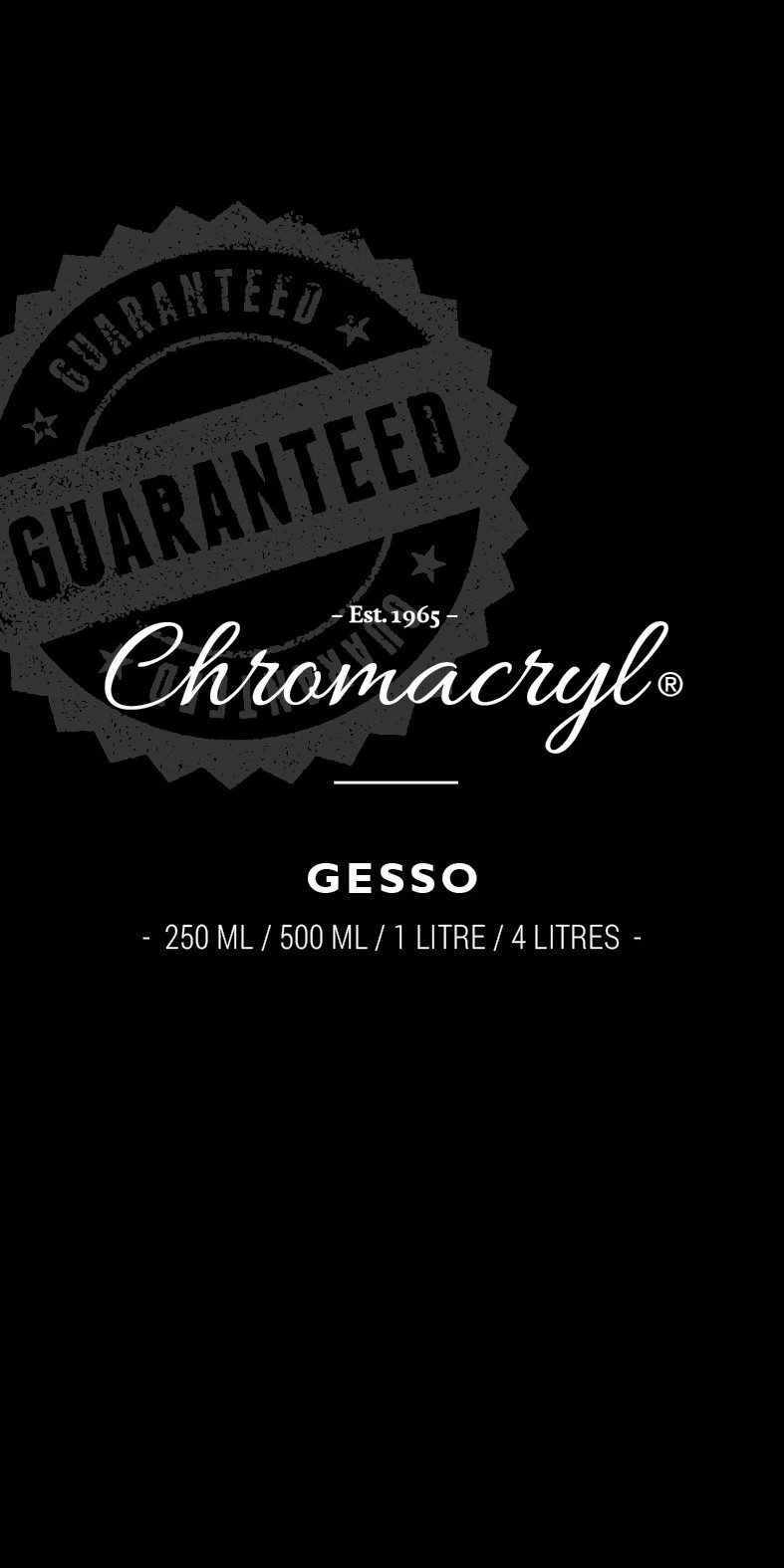 Chromacryl: Gesso Primer
Chromacryl Gesso is used to prepare surfaces for painting for Chromacryl paints. Our Gesso's are made to a high viscosity formulation which can be used to produce texture before starting to paint.
Gesso's have excellent covering power and provide a smooth, even finish with a very fine 'tooth'
when a smooth more even surface is required a little water can be added to produce a smooth effect
use 2 coats of Gesso to seal and prepare the surface you want to work on
we recommend using our Gesso's to seal non-professional pre-primed canvases
Gesso primers are formulated to prevent moisture loss through absorption, which can make acrylic paint dry too quickly, leaving the paint looking flat and dull
Gesso Primers are ideal for the preparation of most surfaces: canvas, cardboard, illustration board, paper, etc.
Note: An alternative preparation for white surfaces such as paper is preferably to use a coat of Binder Medium which has the advantage that can be painted into while it is still wet.
Drawing Ink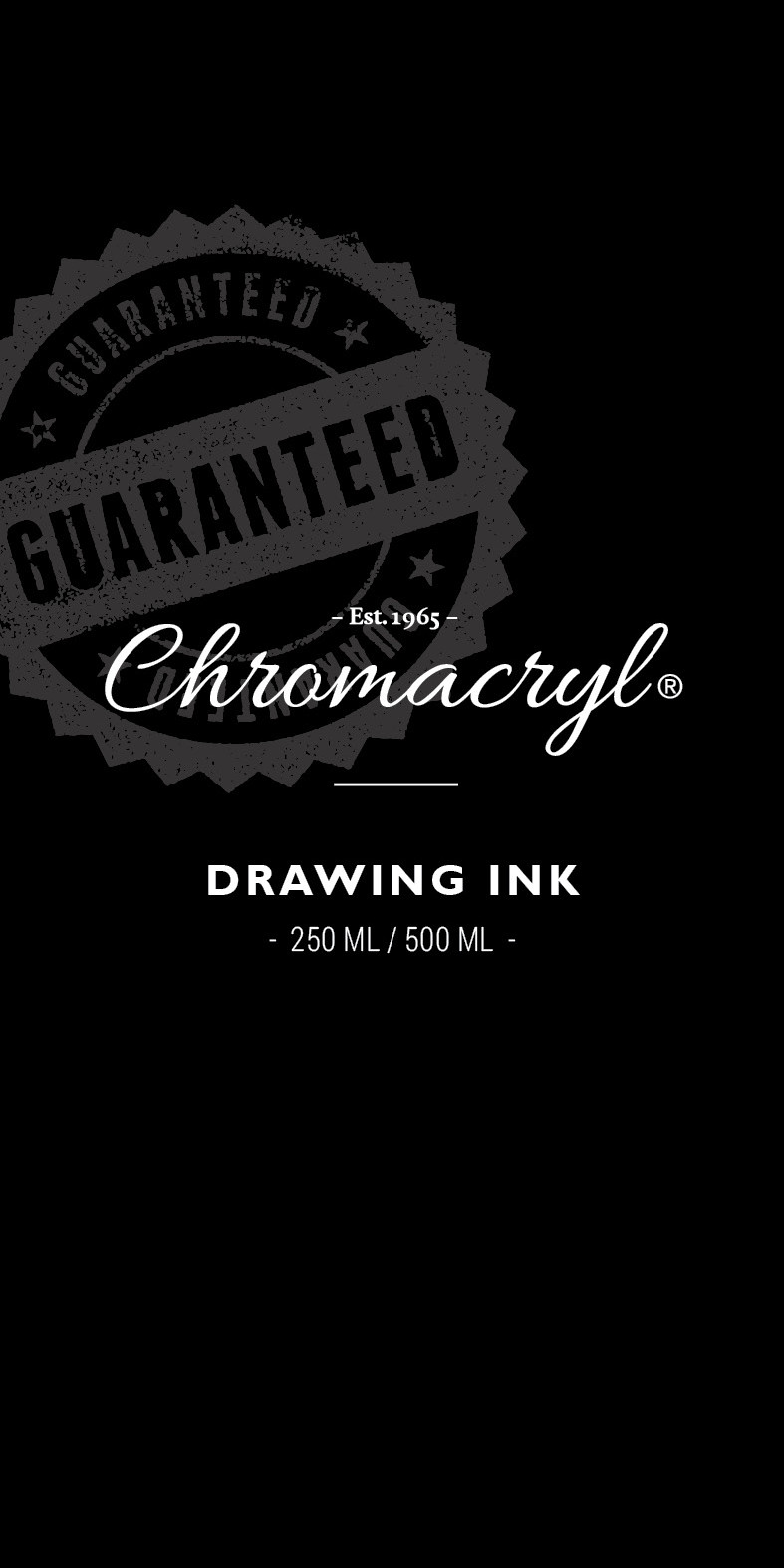 Chromacryl: Drawing Ink
A general purpose water soluble Black Drawing Ink ideal for brush or pen work. Use on its own or dilute with water. Chromacryl Black Ink may be reduced with water as desired to achieve different tones of grey.
waterproof when dry
ideal for both pen and brush works
Note: when using a fine pen, mix equal parts of ink and water to ensure no clogging. Chromacryl Drawing Ink is easy to clean up with soap and water.